Is Doctor Who a racist show? On the surface, it seems like a silly question. After all, there have been a number of prominent non-white characters. Moreover, the interracial and same-sex relationships in the show are presented as run-of-the-mill, everyday occurrences. Perhaps relatedly, the franchise has a strong reputation for its diverse and well-rounded portrayals of lesbian, gay, and bisexual characters.
This is one of the great affordances of science fiction. Particularly in a show set in the future (or at least set intermittently in the future, or in an alternate reality), you can take a strong prescriptive position, where the race, sex, or gender of someone's romantic partner is unimportant or even uninteresting. Whether or not this would be a realistic expectation of how people would act in the real world, you can assert that obviously no one will care in the future. Or you can construct a plausible alternate universe where no one cares.
Basically, in science fiction, you can choose to portray certain aspects of your world not as they are, but as you believe they should be.
So the treatment of race and sexual orientation strikes me as the product of a conscious decision by a show with a progressive agenda. But that just makes the places where the show falls short all the more puzzling.
What do I mean? Well, there are two things, and I'll go through each one separately. First, while there is a reasonable representation of non-white characters, they are almost entirely of African ancestry. People of South Asian descent (including Pakistan, India, and Bangladesh) appear infrequently and only in minor roles. This despite the fact that South Asians constitute by far the largest minority in England. Second is that the mixed-race romantic relationships between major characters don't seem to work out.
First, let's look at the racial diversity in the show. There are different ways to do this, and I've examined four possible approaches. All four give the same qualitative answer: the cast is about 85% white, and among the non-white characters, people of African ancestry outnumber people of South Asian ancestry by a ratio of somewhere between 4:1 and 8:1.
More specifically, a few weeks ago I went through IMDB for the new Doctor Who series (post 2005), and collected all of the (222) characters who appeared in at least two episodes. So, this data is current up to about 2/3 of the way through the new season, but the numbers are large enough that the past few episodes won't change the results. For the vast majority of characters, it was straightforward to identify them as European, African, or South Asian. Only one actor, Chipo Chung, did not fit this categorization, being half Zimbabwean and half Chinese. For purposes of this analysis, she was given her own category.
Using these categorizations, I calculated the number of characters/actors of each race (where David Tenant counts as 1 European and Matt Smith counts as 1 European) as well as the number of character appearances of each race (where David Tenant contributes 52 appearances by a European and Matt Smith contributes 48 appearances by a European). Each of these was calculated both including and excluding Aliens — characters whose race was not perceptible in the show (Dalek operators, Silurians, etc.). Here are the results for the four combinations: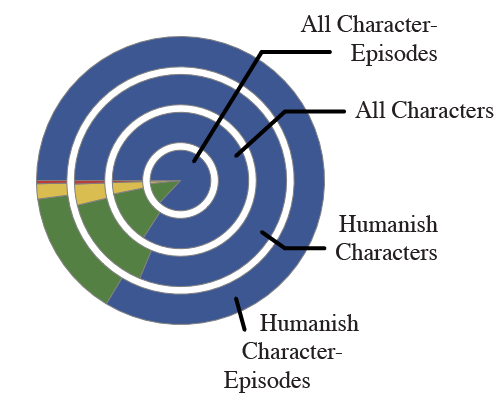 The code here is blue for European, green for African, mustard for South Asian, and red for Chipo Chung. The outermost ring (appearances by actors of identifiable race) is the one that seems to me to be the best match for what we're interested in.
Of course, the question is, compared to what? The natural comparison would seem to be the demographic composition of the UK, since it's a British show, and most of the scenes set on Earth are set there. Here, using the same color scheme, is what that looks like: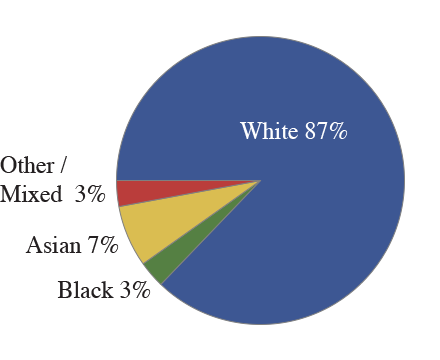 The first thing to note is that diversity, overall, is pretty good. By the four different metrics, Doctor Who's cast is somewhere between 81% and 87% white. The thing that is striking is the difference in the composition of the non-white portion. In England, South Asians outnumber Africans by more than 2 to 1. In Doctor Who, Africans outnumber South Asians by 4.7 to 1 (counting characters) or 8.4 to 1 (counting appearances). That's a distortion of 10-fold or more.
What about the mixed-race romantic issues? There are three big ones: Rose and Mickey, Martha pining after the Doctor, and Clara and Danny in the season that just concluded. Let's review.
When Rose first becomes a companion, she is dating Mickey. She sort of gradually breaks up with him and becomes attached to the Doctor. Mickey keeps after her for a while, but eventually gives up. After some regeneration shenanigans, the Doctor sends his doppelganger off to live happily ever after with Rose in another dimension.
Martha is the Doctor's next companion, and although she has a romantic interest in the Doctor, it is completely unrequited from start to finish. Eventually, Mickey and Martha become a couple in a (different) alternate dimension where they fight Cybermen all the time. So, what we have is two black characters who are in love with white characters, but are rejected by them. The two white characters fall in love, and the two black characters become a couple in what seems to be both of them settling for their second choice (in a dystopian hell-scape no less).
Until the season finale aired, I was holding out hope that the mixed-race romance between Clara and Danny would reach a happy conclusion. Instead we got a pattern similar to the other two. Danny was devoted to Clara, but while she loved him, her primary commitment was to the Doctor. The fact that Danny was and would always be playing second fiddle was spelled out in pretty explicit (and heartbreaking) detail in the finale.
Now, three is a small number, and you can always argue that this is just coincidence, rather than some systematic racial thing. I'm sure a dedicated enough Doctor Who apologist could rationalize the racial composition of the show as something unintentional. Or that we should cut them some slack because of all of the things the show does right.
What bothers me most, though, is that these patterns exist in a show that seems to have made a real effort to be careful about race, making me think they point to something really taboo. That despite a progressive agenda and a conscious effort to portray racial diversity, there are a couple of places that the show is unwilling or unable to go.
On the absence of South Asians, here's the most generous theory I've come up with. Globally, American media has enormous reach and influence. Traditionally, having a diverse cast in American TV was more or less synonymous with having some African American characters. Only quite recently have other ethnic minority groups started to show up on TV in large numbers. So, maybe there's a naive but deeply rooted notion in the minds of British producers that "diversity = black". Maybe they're unconsciously basing their model not on British society, but on American TV and movies of twenty years ago.
A less generous (but more plausible, in my mind) theory is that the show is simply avoiding engagement with the strongest form of British racism. My own experience, anecdotal though it is, is that most white British folks don't really harbor negative racial stereotypes about immigrants from Africa — or immigrants of African descent from the Caribbean. However, attitudes toward South Asians are a very different (and offensive) story.
I have had multiple interactions that went something like this. British person talks about how racist Americans are, citing the treatment of African Americans. British person takes up moral high ground, citing their own open views towards Africans. British person says some really awful racist crap about Pakistanis or Indians — the sort of thing you never heard in public in post-Archie-Bunker, pre-Twitter America. When hypocrisy is pointed out, British person defends stance, saying something like, "You don't have them. You don't understand what they're like."
So, theory B is that if Mickey and Martha and Danny had all been Pakistani, Doctor Who might have alienated much of its British audience, including some people who self-identify as liberal. Or at least the producers feared that would happen. So, they cast black people for diversity, but avoid the racial group that is the focus of the greatest antipathy in Britain.
Similarly for the romantic relationships. Maybe it's just coincidence that a white couple, Amy and Rory, get a happy ending (even if they do have to endure an insufferable series of World Series wins by the Yankees), while the mixed-race relationships fail when the white person just doesn't feel quite the same way.
Or maybe the producers (rightly or wrongly) worry that Britain is not quite ready for a successful, normalized mixed-race couple, at least not one involving one of the show's stars.
Or maybe the producers would say that this was just who the characters are, that it just would not seem right for Clara to go all in on her relationship with Danny. That given everything we've seen Clara go through, she would not be able to separate herself from the Doctor in that way. Fine. Perfectly defensible. But maybe if they had made Danny white, it would not have felt out of character to them.
Anyway, if Russell T. Davies and/or Steven Moffat are regular readers of the blog, I would invite them to share their take(s) in the comments.