So, a "supergroup" in the UK provided the latest British entry in the ongoing spectacle that I like to call, "What's Up with People?" This, from the guardian, via Boing Boing:
Later today, Pete Doherty, the Kooks, Billy Bragg, Imogen Heap, Orbital and many more will gather in a London studio, collaborating in a bid for this year's Christmas No 1. But the strangest bit is not the team-up: it's that they are not recording a single note. The ad hoc supergroup is assembling in support of Cage Against the Machine, a charity campaign to take John Cage's infamous 4'33" – a composition of pure silence – to the top of the Yuletide charts.
So many things.
First, referring to a collection of musicians as a "supergroup," when the headliners are Imogen Heap and the Kooks is like referring to the Pittsburgh Pirates' "All-Star lineup."
Second, doesn't a charity campaign to take a single to the top of the charts sound a bit like a McDonald's "charity" campaign to sell a lot of Happy Meals?
Third, am I going to be listed in the credits for my performance on the Jingjingler? Are you going to receive royalty payments for your performance on the Floofloober?
Fourth, WTF?
Okay, to be fair, it seems that the proceeds from the record will be going to actual charities. And, also to be fair, I did not actually stand in the studio not playing my Jingjingler for four and a half minutes. I have no information on the whereabouts of you and your Floofloober on Monday.
If you're like me – and my particular personality disorder makes me assume that you are – you have no idea what is going on here. If you're in the UK, you're probably familiar with the backstory, but if not, here is my understanding of the situation. There is a TV program called X Factor, which is the Simon Cowell's replacement for Pop Idol, which is the off of which American Idol was spun, along with a host of other things. Apparently, for three or four years running, the winner of X Factor would release their record, and it would shoot to the top of the downloads chart around Christmas.
Eventually, some people got fed up, and last year there was a campaign to get people to buy the profanity-heavy "Killing in the Name" by Rage Against the Machine in late December, specifically to keep X Factor winner Joe McElderry out of the top Christmas song spot. And it worked, by something like a factor of 10.
So, this year, there are multiple copy-cat campaigns designed to keep this year's X Factor winner out of the top spot, including Cage Against the Machine, as well as an apparently much more popular one focused on the 1963 hit "Surfin' Bird." In addition to being derivative of last year's "Killing in the Name" campaign, Cage Against the Machine is also highly reminiscent of a drive from just a couple of months ago to sell copies of "2 minute silence," a track containing two minutes of silence, a reference to two minutes of silence observed on Remembrance Sunday (think "Veterans' Day). Apparently the dance group Orbital (think "Neifi Perez"), which is part of the Cage Against the Machine group, released a remix of one of their tracks back in 1994 that consisted entirely of four minutes of silence.
An excerpt from my new novel, 947 Pages. I will be starting a 501(c)3 dedicated to getting onto the New York Times bestsellers list in time for 
Intergalactic Tutu Day
.
Let me be clear. I am 100% behind loosely organized groups of people doing things that are snarky and pointless. And I'm not questioning that the money Cage Against the Machine donates to the British Tinnitus Association will be well spent. I guess. Also, this is not a complaint against conceptual art.
What this is a complaint about is the smug recycling of conceptual art that, in my view, completely misses the point. When Duchamp calls a toilet a fountain, it is a statement – or a question – about what constitutes art. It is a big moment, and one that contributed substantially to a change in our collective perceptions. If I come along 90 years later, take a toilet and call it a fountain, it is just a lazy attempt to embezzle some cultural capital.
From xkcd: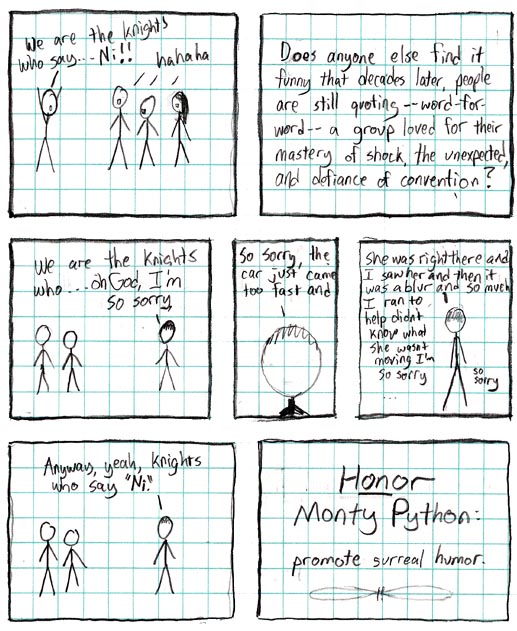 Ni, Mr. Cage., Ni.